Telegram is always one step further than other apps in the same category, and this time, it surprises users on its 10th birthday with a new feature called Story.
You can ask, what is the difference between Telegram's Story and the stories on other apps?
While you cannot edit a story on Instagram or WhatsApp after publication, you can edit it on Telegram.
Without a doubt, Telegram is not satisfied with a simple story and tries to add more options.
If you are enthusiastic about sharing on the Telegram app, read this article: What is a Telegram story?
What is the Story feature on Telegram?
The Story feature on Telegram is a feature that allows users to share photos, videos, and text, which was firstly only available for premium users. Still, Telegram has made it available to everyone.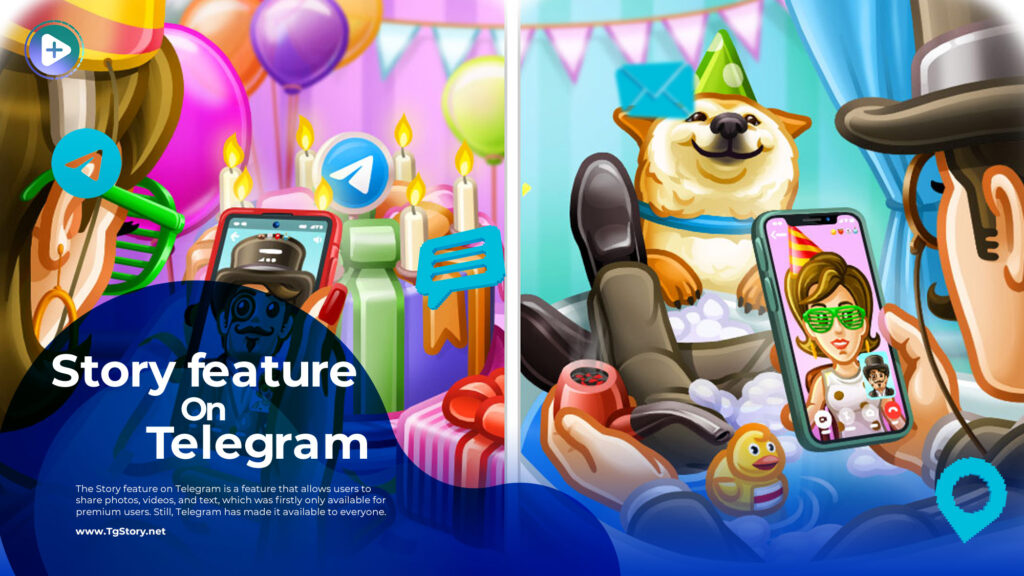 It works similarly to the Stories feature on other social media platforms like Instagram and Snapchat.
Users can post updates to their Stories, and their contacts can view telegram story and interact with these updates for a limited time. Sharing moments and engaging with your friends and followers on Telegram is fun.
The telegram story feature also contains a caption allowing users to enter their text, including 200 characters in a separate section.
How long your Story will be available on the telegram platform is up to you, given that you can choose your desired time, including 6, 12, 24, 48 hours options.
How to share a Story on Telegram? (Android & iOS)
Sharing a story on Telegram is straightforward; you can handle it by following a few steps:
(7) Steps of sharing Story on Telegram on iOS
Open the Telegram app on your phone.
Tap on the 'plus' icon.
After that, the story creation screen will be opened.
Share a photo or video at the bottom of the screen or choose the 'gallery' icon to choose existing media on your phone.
After taking a photo or choosing from the gallery, you can type a caption for your Story.
Then tap the 'Next' button in the bottom right-hand corner.
Select the audience of your Telegram story, then tap on the 'Post Story' icon.
(5) Steps of sharing Stories on Telegram on Android
After launching the Telegram app, tap on the 'Camera' icon in the bottom right corner of the screen.
Once the camera opens, tap on 'shutter' to take a photo or choose a photo or video from your gallery instead.
Then, write a caption for your Story and hit the 'Next' button on the bottom right side.
Select those who can see your Story by given options including Everyone, Contacts, Close Friends, and Selected Contacts.
Finally, tap on the 'Post Story' button.
To share a video on Story, you can hold the shutter button to record a video.
You have learned how to share Stories on Telegram in various systems. Now let's see how we can edit the shared Story on Telegram:
How do you edit published Stories on Telegram?
Thanks to the Telegram platform, it provides its users with almost a complete pack of editing options.
Using this feature, you don't need to delete your current Story or repost your Story from scratch. With a few changes, you can reach your preferred Story on Telegram.
Here are steps that allow you to edit a Story on Telegram:
Open your Story on Telegram.
Then tap on the three-dots icon at the top right-hand corner.
From the menu, choose the 'Edit Story' option.
Now, you can make changes you wish to see in your Story, such as removing or adding text, stickers, drawings, effects, filters, or even zooming in or out to your Story and rotating.
Lastly, tap the 'Done' button in the bottom right-hand corner.
Tips for Hiding Story on Telegram
You can hide or delete stories from your feed if you don't like them. Both Android and iOS follow the same procedure.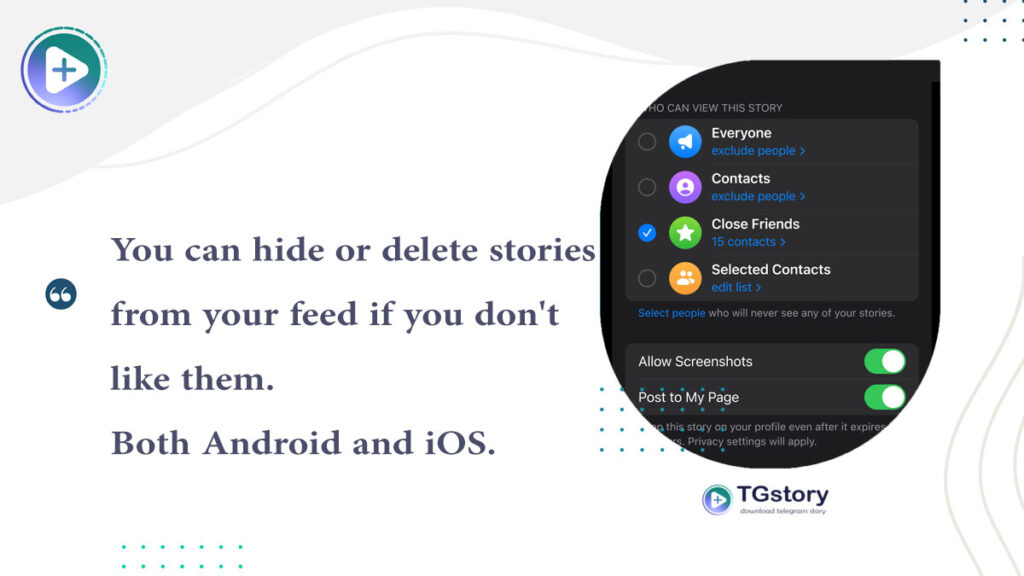 To continue, we teach you how to keep your Telegram story under wraps:
First, launch Telegram on your Apple or Google smartphone.
Second, access the secret Telegram thread you want to obfuscate.
Finally, pick "Hide Stories" from the menu that appears when you tap the three dots in the upper-right corner.
How do I know who viewed my Story on Telegram?
After posting a Story, it is normal to know who viewed it.
To figure out who saw your telegram story, follow the steps below:
Open your posted Story on the Telegram.
After opening it, you can see the number of your story viewer on the bottom left-hand of the screen.
Tap on the number of story viewers.
You can see the list of viewer's names on the new screen.
Unlike the other apps, you can also determine when people watched your Story.
if people download telegram story with third-party site, like tgstory.net you can't saw who saw your story.
Can others take a Screenshot from my Telegram's Story?
On Telegram, you have more flexibility in posting a story since you can even allow or prevent your contacts from taking Screenshots of your posted Story. That is why we say Telegram's Story is completely different from other apps.
Let's see how you can stop others from taking Screenshot from your Story on Telegram:
Open the Telegram and tap the plus or camera icon for sharing a Story.
After choosing content for the Story and writing a caption, in the privacy setting section below who can see your Story, turn off the 'Allow Screenshot icon to stop others from taking the Screenshot.
Final thought
Although many people are familiar with the stories, Telegram is unaware of them. However, how it's used is the same as how other apps implement stories.
It seems like Telegram is working hard to bring the best features to its users and stay ahead of its competitors.
We hope this guide helps you figure out how to use the new Telegram Stories feature. It's not as complicated as you might think. It's a familiar feature, just presented in a new way.
Please comment below if you have questions or suggestions about the "What is Telegram story?" guide