Telegram is one of the successful apps in the case of text messaging, which is highly versatile and can be used for professional purposes such as running a business.
Although Telegram has many unique features, it has limitations in file sharing, and users can share files, including images, documents, and videos, up to 2 GB.
Given the telegram limitation in the size of file sharing, you will need other ways to share your files.
In this article, 'How to Send & Receive Large Files with Telegram?', we introduce you to some common ways that you can use to send and receive large files with Telegram.
8 Methods for sending & receiving large files on Telegram
Here is the list of methods that you can use to send and receive large files when you use Telegram:
1.Using cloud storage
One of the methods that you can get help sending large files on Telegram is using cloud storage.
You must upload your file to a cloud storage service like iCloud, Sync.com and MEGA. Using iCloud, you can upload up to 10 GB, allowing you to access your files using any device.
Sync.com is another cloud storage service that allows users to upload files up to 5GB and is also equipped with high privacy and security levels.
MEGA is a storage cloud with a high capacity for uploading up to 15 GB of files. It offers additional features, such as an easy-to-use interface enabling users to upload and share files easily.
You can share the generated link with the recipient after using one of the storage clouds mentioned above. The recipient can head to the link and download the shared file.
2. Split & compress files
If your file is too large and you cannot share the file on Telegram, you can split the file into small pieces.
HJSplit is one of the software you can use to divide your file into several pieces for free. It is easy to use by splitting files into smaller parts, which can be uploaded on the Telegram platform.
Compressing files is another way to make the size of a file so small that you cannot upload it on Telegram directly. One of the applications that you can use for compressing files and making file size small is 7-Zip.
After installing 7-Zip on your device, press right-click on your file, choose 7-Zip, then choose 'Add to archive'.
In 7-Zip software, you can choose the range of your file compression. If you want to compress your file more, you must wait longer.
3. Using file transfer services
One of the easy ways that you can rely on for sharing large files is using file transfer services. One of the popular file-transferring services is WeTransfer.
With the help of WeTransfer, you can send files up to 2 GB for free without the need for registration. Another file transfer service is File Mail, which allows you to send up to 50 GB.
After uploading the files to the file transfer service and generating the download links, you can use the Telegram platform to share the link.
Once recipients tap on the link on Telegram, they can download the file by heading to the link.
4. Using External file hosting services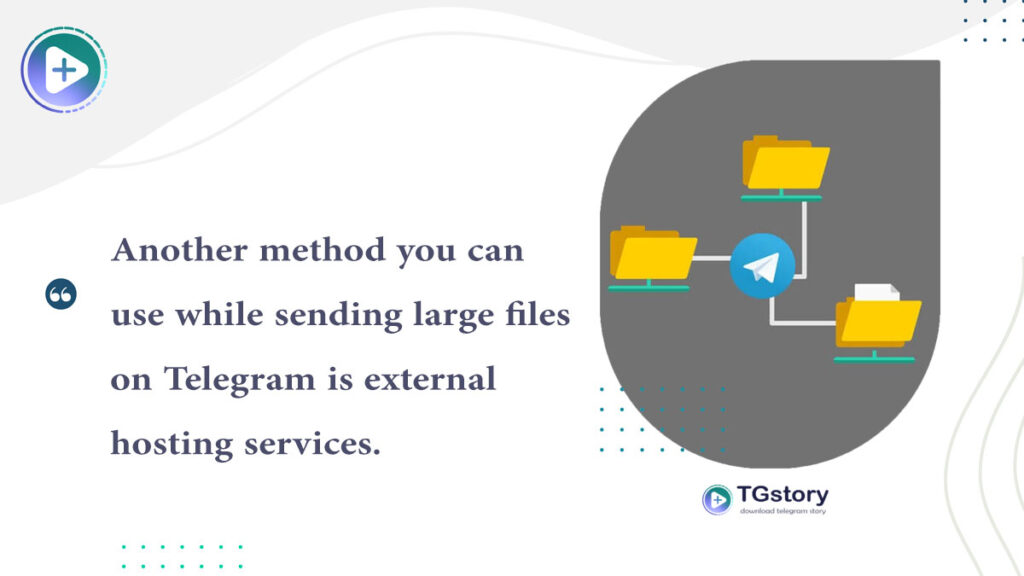 Another method you can use while sending large files on Telegram is external hosting services like Dropbox or Google Drive.
Dropbox is a great tool that allows you to upload files and share the link via the Telegram platform. It is free and simple, allowing users to upload files up to 2 GB into storage space.
Google Drive is another external file hosting service offering 15 GB of free storage. Once you have an account on the Google platform, you can use its storage services.
After uploading your file to the server, you will be given a link to share with your targeted person on Telegram chat.
Once the Telegram contact hits the link, it will be on the website to download the file.
5. Using Email services
Some email services, such as Gmail and Outlook, offer additional features to their users, such as the ability to attach large files to their cloud storage platforms, including Google Drive and OneDrive.
After sending an email including a large file, you can copy the download link and share it in your Telegram chat.
6. Using a video streaming platform
If your file is video and large, sharing it on the Telegram platform would be hard. You must use hosting platforms for uploading video streaming, like YouTube and Vimeo.
YouTube is one of the best platforms for uploading videos without size limitations. You can share your video link with a specific person in the 'unlisted' section.
Vimeo is another video streaming platform, particularly for sharing high-quality videos.
The free version of the service has a restriction of 500MB for weekly uploads. However, if you need to upload larger videos or do so more frequently, they have paid plans that raise this limit.
After uploading your video on one of these platforms, you will have generated a video URL.
As a result, you can share the link on telegram chat.
7. Applying peer-to-peer file sharing
P2P file sharing uses software that connects your computer to other people's networks, allowing you to share large files directly.
BitTorrent and uTorrent are both popular P2P software that you can use to share large files by splitting files into small parts and sharing via the network.
Recipients can download small parts and gather them together to make the file.
You can generate a torrent file after uploading your file to the P2P network. This file serves as a guide for others to locate the different parts of your file on the network.
Share the torrent file or magnet link on Telegram, and your recipient will require a P2P client (such as BitTorrent or uTorrent) to download the file.
8. Buy Telegram premium
By purchasing a Telegram Premium subscription, you can not only download telegram stories but also send files with larger sizes.
By acquiring a Telegram Premium subscription, you gain the capability to send files of larger sizes in addition to downloading stories. This subscription offers an enhanced experience on the Telegram messaging platform, allowing you to seamlessly share larger files and access premium features beyond the basic free version.
The bottom line
Telegram is a great app for sharing different files, including images, videos, and documents.
Since Telegram has file limitations and users cannot share files over 2GB, they need another method to send and receive large files on Telegram, as outlined in this article.
I hope you find reading this article 'How to Send & Receive Large Files with Telegram?' useful, and after following these methods, you can share large files on Telegram.
Do you know another method for sharing large files on Telegram? If yes, please share it with us in the comment section.