Telegram is one of the popular apps that today has a main place in people's lives and businesses.
Many factors have contributed to the success of Telegram, a cutting-edge messaging service that runs in the cloud.
As a result of its rapid expansion, Telegram continues to add innovative new capabilities with each software update.
Knowing and using these new features is crucial if you want to run a flourishing Telegram channel and make the most of your time.
This helpful post from Telegram Adviser will familiarize you with the most recent additions to Telegram.
To learn more about "What are the top features of Telegram in 2023?" we encourage you to read this article.
+ 10 Best & practical features of Telegram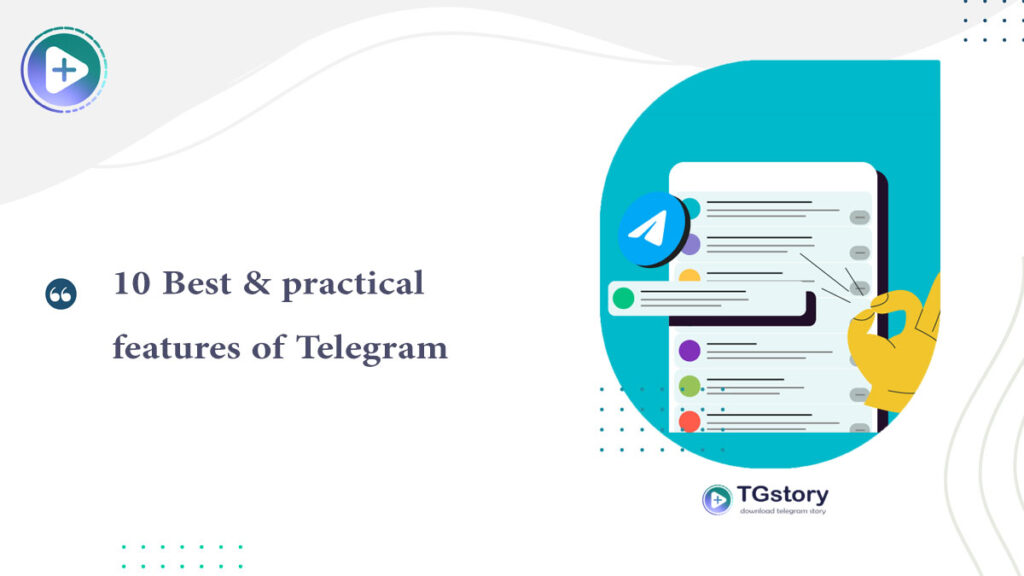 Here, we'll go through Telegram's most new and practical features so you can see all the fuss.
Additionally, as your company and brand expand, you can better manage and expand your channel.
Updated at the start of the year, Telegram now has several cool new options for expressing oneself creatively and vividly in online chats.
We'll show you how to make the most of your time using Telegram features:
·Number one: Profile Photo Maker
Any sticker or animated emoji can now be used as a profile image that is the feature first of a Telegram account, group, or channel in our list.
Regardless of whether they have Telegram premium, anybody can send these photos with Animated and Custom emojis.
Try modifying your contacts' information in Telegram, and you'll discover how this enjoyable function was added: You can set or recommend profile images for your connections.
·Number two: Media Files That Come in Will Be Saved Automatically
Depending on the file size, file type, and sending conversation, you can choose the automatic saving time for your gallery.
You can now filter out unwanted items from the menu and save just the ones you need. Telegram's cloud storage means you don't have to store important files or media on your phone until needed.
So, the automatic saving time for your gallery is the second feature of Telegram that we introduce to you.
·Number three: Variable playback rate
Holding the 2X button allows you to choose any speed between 0.2x and 2.5x for playback of videos, podcasts, and voice and video conversations sent via Telegram, the third feature that has been available for some time.
·Number four: Internet traffic
Telegram now provides users with a breakdown of their data use across Wi-Fi and mobile networks in the form of a pie chart so that you may tailor your automatic download preferences to your data allowance. This is the other practical feature of Telegram.
·Number five: Types of emoticons
Let's be familiar with another usable feature of Telegram. We've made some updates to the way stickers and emojis are organized.
You'll find them sorted into categories like thumbs up, heart, or sleeping face in the panel.
Plus, when choosing reactions or statuses, you can hold any emoji to zoom in and get a closer look before sending it. Pretty cool!
There are so many stickers and emojis out there. But don't worry, finding the perfect one doesn't have to be a huge task.
·Number six: Entire conversations translated
Premium users may instantly translate whole conversations, groups, and channels by pressing the translate bar at the top. So, the entire conversation translated is the most used Telegram feature.
The options menu allows you to hide the bar and choose which languages you want to be translated.
Of course! You can still translate individual messages by selecting them and tapping the 'translate' option.
·Number seven: Upgraded robots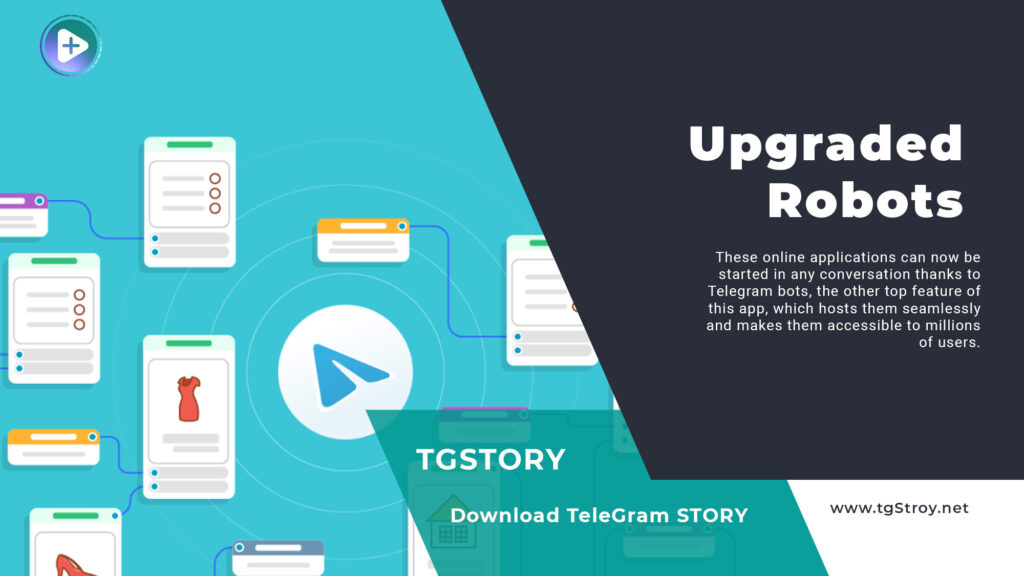 These online applications can now be started in any conversation thanks to Telegram bots, the other top feature of this app, which hosts them seamlessly and makes them accessible to millions of users.
Our bots that have this capability can be accessible via their respective applications by either clicking on a link or by mentioning their username in a conversation on Telegram.
·Number eight: Communicate with a group using a shared chat folder
·Number nine: Save energy setting
If you want to save battery life or boost speed on an older smartphone, you may deactivate the stunning animations and lightweight effects Telegram uses to make any phone seem strong.
Telegram's power saving mode feature can be programmed to activate at a certain percentage of remaining battery life, and its various features can be turned off using separate toggles.
·Number ten: telegram stories
most telegram users can share stories with their friends and download telegram story . this features help you to have better communication with others
What are the other common features of Telegram? (+ 8 common ones)
As you saw and read, we talked about the nine most used and practical features of Telegram, and to continue, we will explain and introduce to you some others that maybe you want to be familiar with:
Spend your reading time wisely by breaking it up into groups. Display the time each member of groups with less than 100 people read your messages.
Saved invite URLs can be easily shared in conversations.
Recent stickers are always shown at the top of your panel, making finding what you need in a sticker pack quicker.
Enhanced support for iOS folders
To provide even more interactivity, including new animated emojis.
Telegram now offers a prepayment discount of up to 40% for a year of premium service.
Users logged out may quickly and easily re-enter their accounts using 2-step verification by linking their Apple or Google IDs.
You can now personalize your chat room decor with wallpapers you choose yourself.
In the end,
So, to sum it up, Telegram is still going strong in 2023. It's a messaging platform that's known for being versatile and secure.
Telegram has many cool features that are great for personal and professional communication.
It's a great choice for people who want a messaging app about privacy, innovation, and user-friendly design. It will be interesting to see how Telegram evolves and adapts as technology advances. They'll have to meet the changing needs of their users.
Now, which feature we talked about is useful for you?
Finally, we are waiting for your ideas about "What are the top features of Telegram in 2023?"