Telegram is a great app for text messaging, which is equipped with lots of features.
Most people use this app because of its flexibility in personal or commercial usage. Users must make an account by inserting their phone number to access the Telegram platform.
However, everyone is uncomfortable inserting their phone number for commercial usage; they prefer to use alternative options such as providing fake phone numbers.
In this article, 'How to use fake number for Telegram? ', we introduce several options for using fake numbers for the Telegram platform.
7 Ways to Use Fake Numbers for Telegram
Although you need a phone number to create an account on Telegram, you can use fake numbers to keep your privacy.
Another use of Telegram virtual number is that story can be active for these people. All users can view and download Telegram stories
Here are options that allow you to use fake numbers on Telegram:
1. Fragment
Fragment is a great platform that enables you to use fake numbers on Telegram. Via this platform, you can buy and sell fake numbers using Toncoin.
To use it, you need to install the Tonekeeper app on your device and then add Ton Wallet.
After that, make the Tonekeeper app and Fragment linked by pressing the Connect TON button.
Scan the QR code with your phone.
Open the Fragment, head to the Numbers section, and purchase a fake number.
The value of the purchased phone number can be checked on TON.
Open the Telegram app after having the phone number offered by Fragments.
Choose the country code, and in the number section, type your number.
You will receive a code on Fragment; insert the code on Telegram to create an account.
2.  TextNow
Another option for using fake numbers on Telegram is the TextNow app Using this app, you need to import your temporary email address to sign up.
After signing up for the app, you can enter your phone number on the Telegram platform to create an account. To receive a verification code from TextNow, you can choose a text or call option, depending on your preference.
You can choose a paid alias phone number if you want access to the phone number as long as you wish.
3.  FreePhoneNum.com
FreePhoneNum.com is a website that you can use to access plenty of virtual phone numbers, such as fake phone numbers used for Telegram. After choosing the numbers, you can import them on Telegram and receive a verification code.
If you cannot see the verification code on the website, you should refresh the website.
The main issue with this website is that everyone can see your verification code. Because of that, it is better not to use the phone number for personal purposes.
If Telegram does not accept the number, you can try alternative options on the website.
4. Receive SMS
Receive SMS is a web-based platform allowing users to use temporary numbers. You can choose phone numbers from different countries as fake phone numbers used for Telegram.
The cool thing about this website is that you can use any number several times and for an extended time. You must click the Read SMS icon to see text messages about the phone number.
Like FreePhoneNum.com, everyone can see the messages you receive on Receive SMS. You can refresh the page once you cannot receive code on the website.
5. Line2
Line2 provides the advantage of having a cloud-based phone number alongside your existing one. This allows you to utilize the cloud number to receive the verification code for your Telegram account.
Using this app, you can use virtual phone numbers for both personal and commercial purposes, including the United States and Canada phone numbers.
Additional features of Line2 include call blocking, call forwarding, voicemail recording, caller ID and others.
6. Google Voice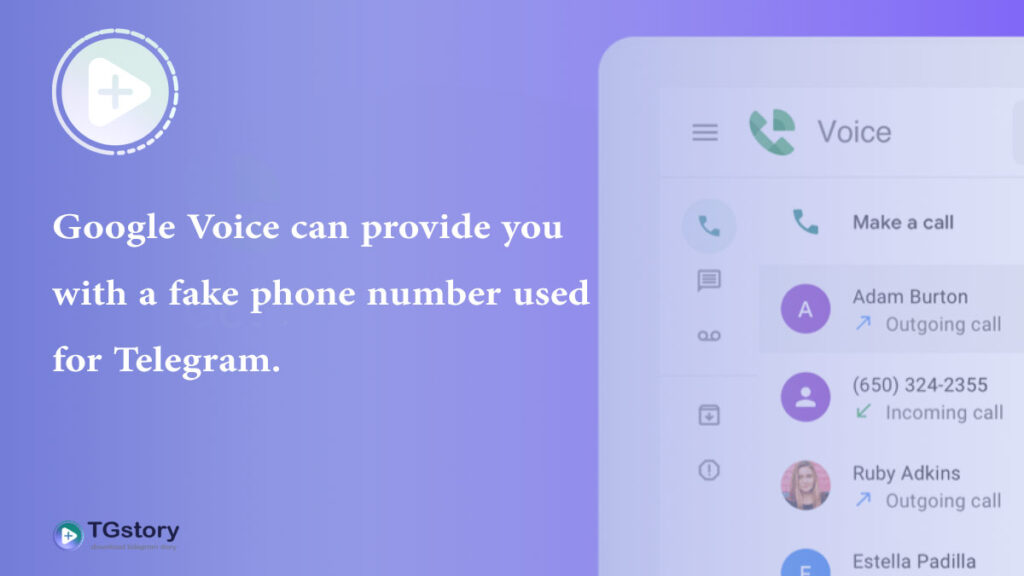 Google Voice can provide you with a fake phone number used for Telegram; however, to use this platform, you need to insert your U.S. number. Your phone number will be safe and not be used on the Telegram platform.
Here are steps that allow you to use Google Voice:
Install the Google Voice app on your device.
Open the app and log in to the platform.
Tap on the 'Search' button and select your location.
Choose one of the given numbers by pressing the 'SELECT' button.
To accept the number, tap on the 'Verify' button.
Allow the Google Voice app to call you.
Insert your phone number.
Tap on 'Send Code' to receive the code.
Finally, tap on the 'Finish' button.
After obtaining your Google Voice number, you can utilize it for Telegram registration. Telegram will send an SMS to your Google Voice number to create your new account. After this step, it should no longer be required.
If you cannot note the phone number somewhere, you can see the phone number on the Google Voice app. Head to the Settings section of the Google Voice app; you can see the phone number here.
7.  Burner
Burner is the final option that you can use for making fake phone numbers for creating an account on Telegram. Burner is a mobile application that redirects incoming phone calls from a fictitious number to your real phone number.
So, when someone calls you, others will only see the Burner number. Users can use this app for one week for free, and within this period, you can immediately make an account on Telegram.
If you worry about the privacy of your phone, there is no issue with your phone number, and it will remain safe.
Here are steps for using Bruner in the case of making a virtual phone number:
Install Burner on your device.
Open the app and tap on 'choose your number'.
Insert your current phone number.
Put a tick beside the Burner's Terms of Service.
Choose a phone number.
Tap on the 'Free Trial' icon.
Now open the Telegram app and add your phone number for registration.
Summing up with Fake Number Telegram
Using fake numbers on Telegram comes in handy for those who look for more privacy and are not happy with avoiding sharing personal information.
Following this article, you can learn common ways to make virtual numbers using a Telegram account.
You can choose one of these methods to create an account on Telegram freely
according to your preference and purpose.
I hope you read this article, 'How to use fake number for Telegram?', which is beneficial in keeping your privacy on Telegram.
What is your favorite platform mentioned in this article?
Why? We would love to hear from you in the comment section