As an instant messaging app, Telegram has become an internal part of most people's daily lives since it allows users to connect with loved ones using useful channels, bots, and more.
However, you may face this message using Telegram: 'this phone number is banned'. Although it does not make users feel good, it happens for different reasons.
If you suffer from the same issue on Telegram and want to know why Telegram banned my phone number, you can stay with us in this article to discover the reason and solution.
10 Reasons that Telegram bans your phone number
Here is the list of reasons behind your phone number being banned by Telegram:
1. Using hate speech
Using hate speech or false information is not welcomed by Telegram. And because of that, it allows users to report and flag hate speech when they detect it. As you get flagged, you risk being banned by the Telegram platform.
2. Reported for Harassment
Telegram is sensitive to any harassment action, and if you are reported because of bothering someone on the platform, and it is proven, Telegram immediately takes action against you and deprives you of using the platform.
3. Using prohibited content in your profile
Everything on your Telegram profile, such as bio, display name, website, and YouTube channel, should be compatible with Telegram policy. Using racial slurs, profanity, gibberish, or lewdness is strictly prohibited and can be the reason for banning by Telegram.
4. Doing illegal activities
Another reason phone numbers are banned on Telegram is involvement in illegal activities such as selling drugs, fundraising, etc. When Telegram recognizes your account with such activities, without wasting time, it bans your phone number.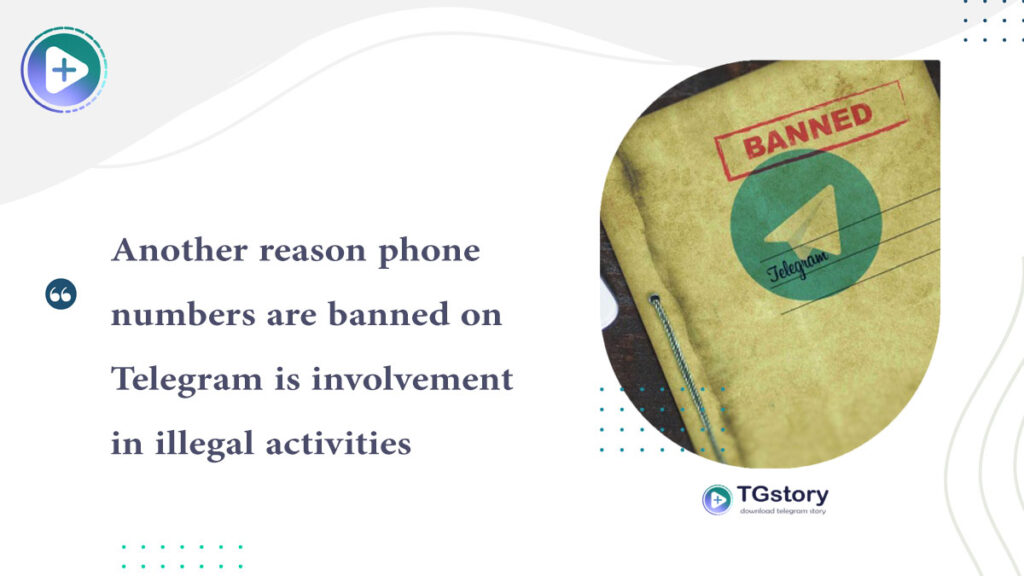 5. Sharing nudity & sexual content
Telegram makes an effort to provide a healthy environment for all age ranges. If your activities go against the Telegram policy and you share nude or sexual content, your account will be flagged for sharing explicit content, which leads to your account being banned on Telegram.
6. Cybercrime promotion
If you promote cybercrime on Telegram or help hackers by selling tolls for hacking others, your phone number will be banned by Telegram without any doubt.
7. Entering incorrect password
Up to five times, you are allowed to type incorrect password sequent, and when you exceed five times, Telegram suspects you and bans your phone number.
8. Using virtual number
Although you can use a virtual number to sign up for the Telegram platform, if you don't get the code through the SMS or call for verification in the given time, Telegram bans your phone number.
9. Cyberbullying
If you send messages, including bully or intimidating, to others on Telegram, you will be banned as you are reported on Telegram.
10. Other activities
Besides these mentioned above, there are some other activities that, if you are involved in and become detected by Telegram, there is a higher likelihood of being banned.
Here are the activities that cause the user's phone number to become banned by Telegram:
Sending a significant volume of spam or unwanted messages.
Utilizing automated tools or bots to send messages.
Rapidly adding a large number of contacts in a short period.
Falsely impersonating someone for fraudulent purposes.
Joining a group or channel that promotes harmful or illegal activities.
After understanding the reasons why Telegram came up with the decision to ban your phone number, let's figure out how you can handle this issue.
How to fix a banned phone number on Telegram?
If none of the mentioned reasons is not your case and you think that Telegram wrongly bans your phone number.
Here are ways to help you recover your Telegram account:
Contact the Telegram support team on Twitter
As Telegram has an account on the Twitter platform, you can contact them there to share your issue. To send a message to a Telegram account on Twitter, you must have an account on Twitter and log in.
In the read message, you should insert your information, including your Telegram username and phone number, for creating an account.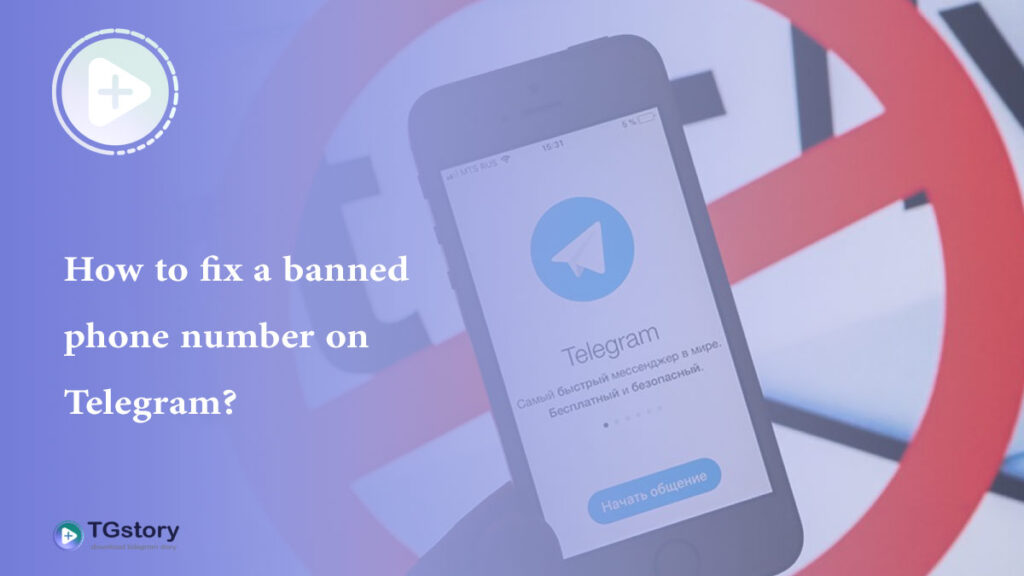 Send an email to Telegram.
You can use this option to recover your account, but you must include details in the email and write related subjects. Also, explain that you have not been involved in any action against the Telegram policy.
Here is the list of email addresses to which you can send emails to get rid of banned phone numbers on Telegram:
You should get a reply within 1 to 5 days; check your spam if necessary.
Use the Help option on Telegram.
It is a handy option that you can use when your phone number is banned by Telegram to fix the problem. The help option appears below the message 'This phone number is banned'.
Tap the Help option, and a new screen will appear, allowing you to explain your issue to the Telegram support team.
After requesting help, within a day, you will get a response.
Ask a Telegram Volunteer
You can get help from Telegram volunteer support members, as some people are helping you voluntarily to handle your technical issues on the Telegram platform.
To access this option, you must follow the steps below:
Open the Telegram app on your device.
Head to Settings, then tap on the Ask a Question option.
Now click on the Ask a volunteer.
A chatbot will pop up with various options, allowing you to start chatting with them.
Use the Telegram support page.
Telegram has a launched website allowing you to inform the platform about your technical issues on Telegram. You will insert your problem, email, and associated phone number, and your problem will be diverted to the related department on Telegram.
Please wait until your account restriction resolves itself
If you go over all the mentioned solutions and Telegram insists on your phone number ban, you have no choice but to wait if you want to register with the same number. Or, if you have another phone number, you can use it for registration.
Final words
Telegram, as a leading text messenger, is equipped with strict policies to provide a healthy atmosphere for users and deliver them satisfying exceptive of using Telegram.
To reach this result, Telegram bans the phone number of users flagged or reported by others. And when it proves Telegram, without a doubt, restricts their access to their account.
In this article, we explain reasons and solutions for banning phone numbers on Telegram and hope you find this article useful.
After reading this article, did you find out "why Telegram banned your account?"
If yes, tell us what was your case in the comment section