Telegram is one of the numerous instant messaging apps that has become a standout. Sometimes, when WhatsApp was down in certain countries for legal reasons, its users had to find a good and reliable alternative.
Let's join Telegram! Yes, definitely! Even if it's a really popular app, not everyone knows Telegram's cool features for its users.
There's just so much to talk about regarding Telegram, right?
If you're curious about this app, we have a list below with all the necessary information. It will also answer your "What are the important aspects of Telegram?" question. So, let's dive in!
8 things you should know about Telegram
· Fact one: Telegram is a fast app
It's not uncommon for instant messaging programs to be rather quick. You should realize that this app is even superior in this respect, and it can be said that the first important aspect of Telegram makes it one of the fastest and quickest messaging applications according to several benchmark tests.
This makes your chats more engaging and helps avoid those unpleasant crashes that some WhatsApp and similar software users occasionally experience.
Because the program encodes messages so thoroughly, they may be sent relatively easily, even over sluggish connections.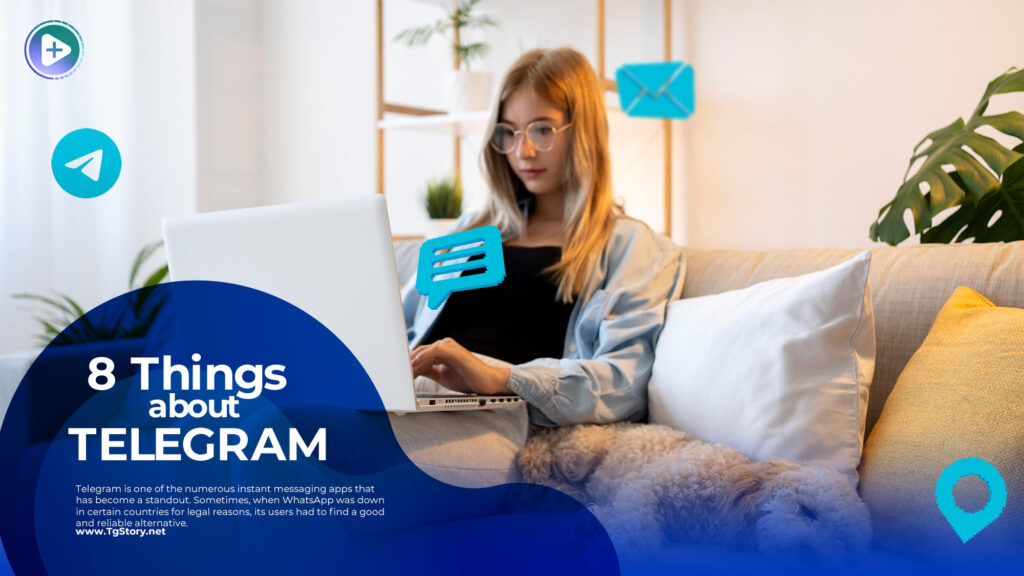 · Fact two: Telegram's privacy & security
The second important and considerable aspect of Telegram is that it is one of the safest messaging apps out there.
It has some cool features! You can have secret chats, send encrypted messages, and even delete your account if it gets hacked.
And that's not all; there's much more to explore, too! In addition to that, you have the option to add passwords or lock the app using your fingerprint.
· Fact three: Telegram has no cost & no annoying advertisements
Telegram is secure and packed with cool features, but you can enjoy its functionality without spending a dime. That is the third critical and wonderful aspect that Telegram can have. That's great news! You won't have to worry about annoying in-app ads or anything invasive that could ruin your experience.
The developers say they've got enough money to keep working on the app for a while, so they don't have to look for other options.
· Fact four: Telegram can be adjustable to everyone's specifications.
By the way, did you know that Telegram is completely customizable? And we're not just talking about changing the wallpaper or activating a night mode!
So here is the turn of Telegram's fourth important and attractive aspect. You can use different themes in it! They can be made by developers, other users, or even by yourself.
It's not just the mobile app that has cool themes. The desktop version also has some awesome ones! Having the ability to customize your user experience is a major selling point for any app.
· Fact five: Telegram messages can be edited.
It's pretty common to send messages with spelling mistakes, especially because of that autocorrect feature on smartphones. The other great aspect of Telegram is that you can edit any message you've sent using the app.
By the way, just so you know, when you edit a message on Telegram, it leaves a little notice saying it has been edited. That's pretty much all you need to know about their system. It just doesn't display the edit history.
· Fact six: Telegram secret chat
Do you know what's cool about Telegram? This awesome feature called secret chats makes your conversations super safe. So, Telegram secret chat can be considerable as the sixth important feature of Telegram that you need to be familiar with.
With end-to-end encryption, your messages are secure and private. Only you and the person you're chatting can read what's being sent.
You can't forward secret chat messages and be notified if you try to copy them. Plus, you can set messages, videos, audio, and photos to self-destruct after a certain time.
The cool thing is, once you're done with a secret chat, you can just hit a button, and it's gone from both your phone and the other person's device. That way, everything inside will be destroyed.
This paragraph was a quick look at Secret Chat on Telegram, and for more details, we invite you to read the "Finding a Secret Chat on Telegram: Steps & Tips" article.
· Fact seven: Unlimited ability on the transport of large files.
File sharing is super common in messaging apps. People always use it to send videos, photos, audio, and documents. The thing is, apps like WhatsApp and Facebook Messenger have these restrictions on the size of files you can send. It can be a bit of a hassle sometimes.
It's a bummer that these restrictions are still quite limited, with only a few MBs. With the other important aspect of Telegram, you can easily share files up to 1.5 GB without any issues. Oh, for sure! It's such a fantastic perk.
· Fact eight: Telegram is adaptable to several systems.
Another important aspect of Telegram is using it on different platforms. You have a few options for accessing the app: the mobile app on your smartphone, the desktop app on your PC, or the web version on your browser.
Here's the cool thing – you can use all of them separately! Unlike WhatsApp, which requires your smartphone to be connected and online to work on your browser. Pretty convenient, right? All of these versions are complete experiences, and they offer similar features.
In the end,
In conclusion, Telegram has many great features that have made it popular and effective as a messaging platform.
Sure! Some important features of this platform are a strong focus on keeping your privacy and security intact, making it work seamlessly across different devices, allowing you to chat instantly with others, easily share files, and support large group chats and channels.
Do not forget that Telegram also has some awesome customization options! Plus, they have a bot API that allows for automation, a huge library of stickers and GIFs, and the bonus of cloud storage.
Finally, we hope that all the data we collect for you will be beneficial. But do not forget to add extra important aspects of Telegram if you know.