Pavel and Nicolai Durov, brothers, developed the Telegram app in 2013 to compete with WhatsApp.
You can transmit messages, videos, audio notes, and more using its cloud. End-to-end encryption ensures that everyone except the two parties can read your conversation.
Do you have issues using Telegram after the iOS 14 update? Many iPhone and iPad users have eagerly awaited the new Apple operating system, iOS 14.
Finally, it's here! So many people couldn't wait to update it on their smartphones or tablets. For the most part, the iOS 14 update went pretty smoothly. Many problems tend to come up when you're using something. But do not worry; let's dive into this post and discover the Telegram issues and errors after the Update in iOS14.
Combining Telegram with iOS 14: a quick look
Did you recently update to the latest iOS14 version? Are you experiencing any issues with Telegram after the Update to the iOS14 version? So, it's not just because of iOS 14; it could also be related to how Telegram works with it.
Well, you see, when Apple updates its operating system, the developers are often asked to adjust their apps. It's just how things work, you know? If you're experiencing any issues with Telegram on iOS 14, contacting the developer, Telegram FZ-LLC, is a good idea. They should be able to assist you with any problems you're facing. Usually, this will quickly update you for Telegram in the App Store that you can download.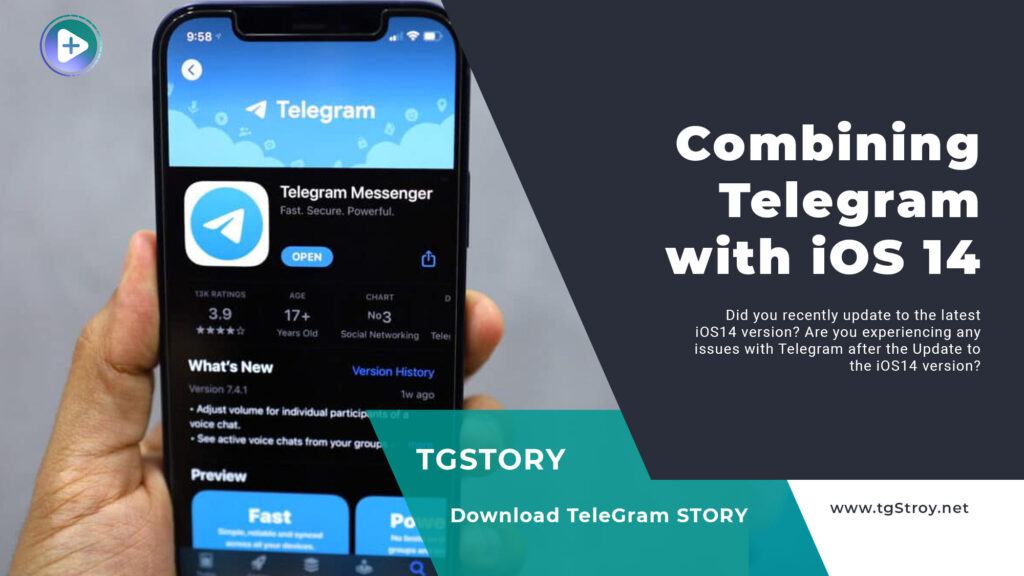 + 6 Common & typical problems with Telegram on iOS 14
If you're having trouble using Telegram on iOS 14, we have some tips that might help you. These measures have been known to resolve many common issues and errors. Give them a try! So, let's be familiar with the issues and errors of Telegram after Update in iOS14:
1. After installing an iOS update, applications like Telegram may occasionally crash or become unstable. Possible causes include incompatibilities between the app and the iOS update. App upgrades that fix compatibility issues are a common solution.
2. After upgrading to iOS 14, some users may experience sluggish app performance, latency, or unresponsiveness. This may occur because of issues with the software or features that need a lot of system resources.
3. Telegram can malfunction if your internet connection is slow or unstable or if there are difficulties with the server that Telegram uses. Users might have trouble sending or receiving text, photos, or files.
4. Telegram users, for example, can stop getting alerts about new messages and calls when an update resets their app's notification settings.
5. Changes to iOS's privacy settings can alter an app's access to certain features and data after an update. Users may need to check and tweak their app's privacy settings.
6. Regarding iOS upgrades, older versions of Telegram may not work as intended. It is recommended that users always use the most recent version of their software.
A practical solution for the issues & errors of Telegram after the Update in iOS14
If you're having any issues or errors with Telegram after updating to iOS 14 or any other iOS version, we've got some important notes and steps for you to check out:
1. Make sure you're running the most recent version of Telegram. Developers often release upgrades to fix incompatibilities with iOS upgrades.
2. Be sure your iOS device is compatible with the latest version before updating. It's possible that the most recent iOS upgrades won't work as well on certain older devices.
3. Minor problems that may have arisen after installing an update may often be fixed by restarting the device.
4. Get a reliable connection to the internet. Telegram's functionality may be affected by connectivity troubles.
5. Verify your iOS device's notification settings for Telegram. Verify that you have turned on alerts and set up how you want them.
6. Examine and modify Telegram's in-app privacy settings on your device. App access controls may change after an iOS upgrade.
7. If problems persist after that, try erasing and reinstalling Telegram. Corrupted app data is a common cause of issues; however, this can fix it.
8. Clearing app data or cache may be an option in the settings of certain applications. Verify whether this performance-enhancing feature is available in Telegram.
9. If the solutions above don't work, contact Telegram's support team. They may provide advice and even report on the precise problems you're having.
10. Search for discussion groups or online communities that discuss the latest iOS upgrades and Telegram. It's possible that other people have encountered the same problem and may provide advice on how to fix it.
11. Read the latest release notes and company announcements from Telegram. There's a chance they'll tell you about problems with the app and how to get the latest version.
12. If the app is unplayable, you may need to try rolling back to an older iOS version if one is compatible with your device. However, this has to be done cautiously since it might compromise security.
13. if you can download telegram story , you will use tgstory.net
Conclusion
So, running into problems with Telegram after updating to iOS 14 is pretty normal. But don't worry; you can handle it if you stay patient and approach it correctly. The important thing is to make sure you stay informed and take action when needed. Whether updating the app, checking your settings or reaching out for support, staying proactive is key. So, when it comes to iOS updates and app changes, we get that they can sometimes be a bit inconvenient. But the cool thing is they also allow developers to improve things! They can improve performance and fix any compatibility issues that might be going on. So, it's kind of a win-win situation. If you follow the tips and strategies we are about to share, you can handle these challenges easily. That way, your Telegram experience on iOS 14 will be smooth and reliable. Finally, as a Telegram user, what is your idea about the Telegram issues and errors after the Update in iOS14?