It is undeniable that our methods and tools are continually adapting to today's developing communication world.
Numerous platforms have played pivotal roles in enhancing our communication, but Telegram stands out as a messaging platform swiftly securing a place among the top 10 social networks.
Its versatility extends far beyond simple chatting, offering a plethora of features. However, some questions arise: what are the Telegram premium features? How can we use them?
In this article, we aim to assist you in learning how to utilize Telegram's premium features in your daily communication routine and business.
So, to learn more about the Telegram premium feature, please continue reading this article with us!
What is Telegram premium?
Telegram Premium feature, in essence, represents an elevated tier of Telegram's services. It is a subscription-based model that unlocks exclusive features and enhancements, taking your Telegram experience to the next level.
Unlike the standard version, Telegram Premium offers advanced functionalities designed to cater to the needs of discerning users.
These enhancements encompass increased file size limits for sharing, lightning-fast data transfer speeds, and a seamlessly ad-free environment.
Furthermore, subscribers can access a broader spectrum of customization options, such as personalized themes and stickers.
The best features of Telegram premium
Telegram Premium introduces many outstanding features that set it apart from its free counterpart.
These enhancements cater to diverse user preferences, ensuring an all-encompassing messaging experience.
If you are wondering what the Telegram premium features are, we will provide you with some of them:
· Ample file sharing
With the Telegram Premium feature, you can effortlessly share files of substantial sizes. Say goodbye to limitations as you seamlessly transmit large documents, videos, or high-resolution images, making it ideal for business professionals, content creators, and anyone with a penchant for data-rich exchanges.
· Blazing data transfer speeds
One of the standout benefits of Telegram Premium lies in its lightning-fast data transfer speeds. Messages and media files traverse the digital world at unprecedented velocities, ensuring prompt and hassle-free communication, even with substantial data loads.
· Ad-free serenity
Bid farewell to intrusive ads that can disrupt your messaging flow. Telegram Premium guarantees an ad-free environment, allowing you to immerse yourself in your conversations without the distraction of unwanted promotions.
· Enhanced security
Telegram has long been lauded for its security features, but Premium users enjoy an added layer of protection with the ability to set up a passcode lock for their chats. This feature adds an extra safeguard to your sensitive conversations and data.
· Customization galore
Personalization is key to an enjoyable messaging experience. Telegram Premium offers an extensive array of customization options. From bespoke themes to unique stickers, you can tailor your Telegram interface to reflect your personality and style.
· Priority support
Telegram Premium members receive priority customer support, ensuring that issues or inquiries are addressed promptly and efficiently. This level of assistance can be invaluable, especially in professional or time-sensitive contexts.
· Cloud storage expansion
Are you running out of space on your device? Telegram Premium alleviates this concern by providing significantly expanded cloud storage capacity. Keep your valuable media, files, and documents securely stored in the Telegram cloud without worrying about exhausting storage limits.
· Group size expansion
Telegram Premium offers an increased group size limit for community managers, event organizers, or group enthusiasts. Engage with up to 200,000 members in a single group, making it a robust platform for large-scale discussions and collaborations.
· Download Telegram stories
with Telegram Premium you can download telegram story without third-party apps.
How do we change our Telegram to premium?
Now that you know the Telegram premium features, do you want to change your account?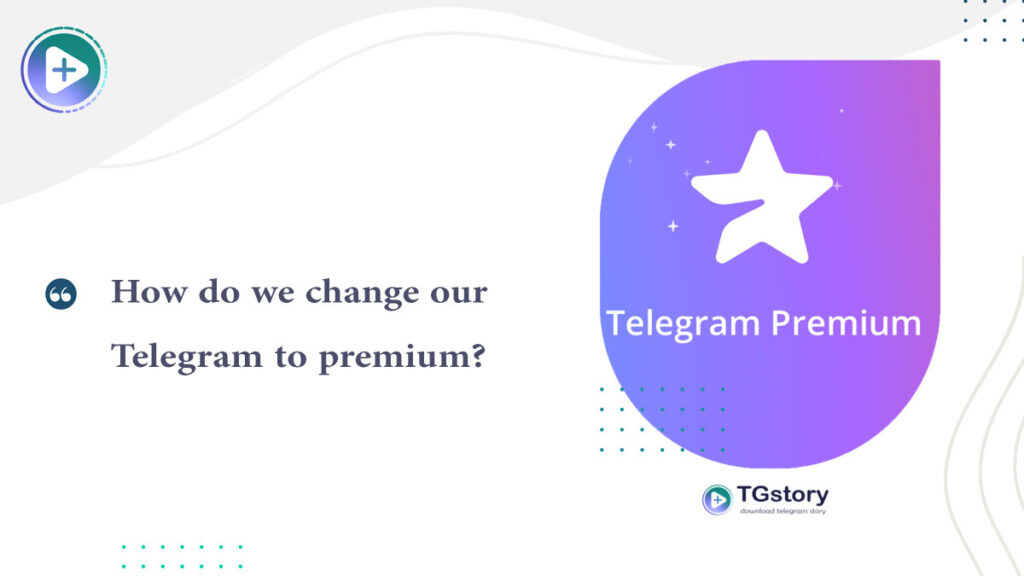 To change your previous Telegram account to premium while maintaining your phone number and chats, you should follow the steps below:
·Step 1
Begin by launching the Telegram app on your device. Once open, tap the three horizontal lines in the upper left corner to access the menu. From there, navigate to "Settings," usually at the menu's bottom.
·Step 2
In the Settings menu, scroll down to find the "Premium" or "Upgrade to Premium" option. This is where you will initiate the process of upgrading your Telegram account.
·Step 3
Telegram Premium typically offers various subscription options, such as monthly, yearly, or even longer durations. Choose the subscription plan that best suits your preferences and budget.
·Step 4
Proceed by selecting your preferred payment method. Telegram usually accepts options like credit cards, PayPal, or mobile payment services. Enter the necessary payment details securely.
·Step 5
After providing your payment information, confirm the upgrade to Telegram Premium. Be sure to review the terms and conditions if prompted and accept them to complete the process.
·Step 6
Telegram may send a verification code to your registered phone number or email address. Enter this code to verify your identity and activate your premium subscription.
·Step 7
Congratulations! You have successfully upgraded to Telegram Premium. You can now enjoy all the premium features, including increased file-sharing limits, faster data transfers, ad-free messaging, and more.
·Step 8
You can revisit the Premium section in your Telegram Settings to manage your premium subscription or make any changes.
Shortcut and fast way
You can easily and easily buy a premium Telegram subscription from the SmmAcc.com site
Summarily
In summary, the Telegram Premium experience is a gateway to a world of enhanced communication and customization.
It caters to diverse user needs with features like expanded file sharing, ad-free messaging, and priority support. As we have explored, it is not just about upgrading but elevating your messaging journey.
Now, what are the Telegram Premium features that resonate with you the most? Have you experienced the benefits firsthand, or are you considering leaping a premium subscription? Share your insights in the comments below.