Telegram has remained a popular messaging app on Android and iOS since its launch. It offers different features such as sending messages, sharing photos, voices, and videos, making calls, joining private and public channels, and more.
As it is user-friendly, most users prefer Telegram for sharing files; however, they may not be happy with the slow download speed on Telegram sometimes.
If you are in the same situation and want to download your files on Telegram quickly, you are in luck.
In this article, we are telling you how to increase Telegram download speed on Android and iOS.
Ways to increase the Telegram download speed on both Android & iOS
Here is the list of methods that you can utilize to boast Telegram download speed:
Upgrade Telegram to premium
Premium Telegram, unlike the usual version, is equipped with additional features.
To improve the Telegram download speed without wasting time, you can upgrade your Telegram to the premium version by paying £4.99, $4.99, €5.49, and 179 rupees.
In addition to higher download speed, premium users of Telegram can share files up to 4GB and can upload & download telegram story.
To upgrade your Telegram to premium, follow the steps below:
Open the Telegram app on your device.
On the app, tap the three-line icon at the top left-hand corner.
Then tap the Settings option, scroll down, and locate the Telegram Premium.
Choose the annual or monthly plan according to your desire, and tap the Subscribe icon at the bottom.
Close background apps
When you run different apps on your device, your Telegram's download speed is likely reduced.
So, if your download speed is low, check the run app in the background and close it since it uses lots of data in the background and limits the Telegram download speed.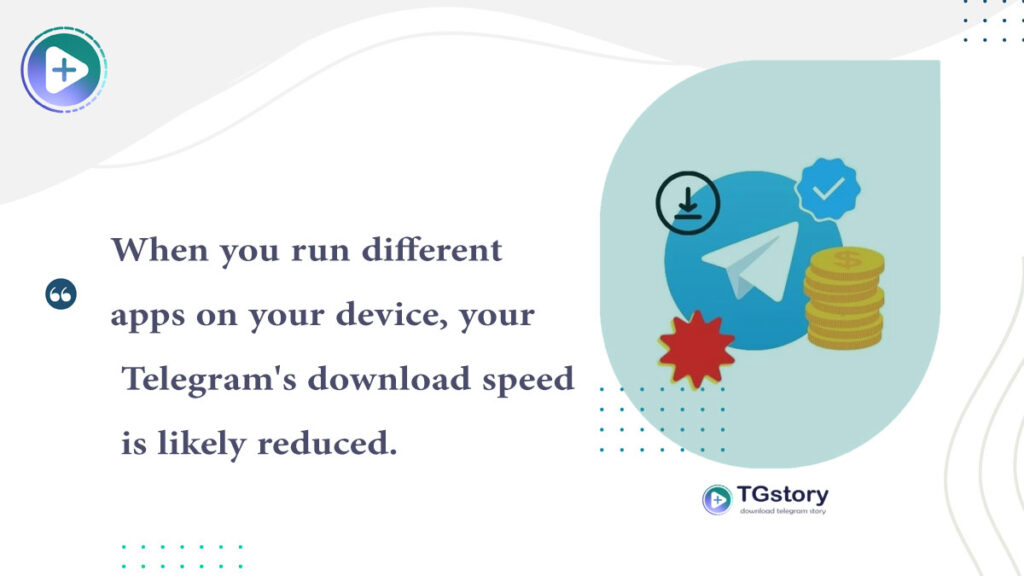 To improve the download speed on Telegram, close all apps in the background, then run the Telegram app again.
Update Telegram app
Updating the Telegram app not only comes with new features but also removes previous bugs on the app, such as low download speed.
So, when your download speed is not progressing well, and you cannot wait any longer, you can check Telegram updates on the App Store and Google Play Store.
If the update option is available on them, you can tap on the update icon to use the updated version.
Turn off the data server on your phone.
The data saver feature on smartphones restricts the amount of data used. When you enable Data Saver, it limits data usage on your phone, including download speeds on Telegram.
To resolve the Telegram download speed issue, you should disable the data saver on your smartphone. Depending on your phone, you can use the methods mentioned below:
–On Android
Go to Settings on your phone.
Tap on the Wi-Fi & Network option.
Then tap on Sim & Network, followed by this tap on Data Saver.
Besides the data saver, toggle the button to turn it off.
–On iOS
Go to the Settings section of the phone.
Then head to the Cellular section and tap on Cellular Data Option.
Tap on Data Mode to enable it.
Choose Standard Mode to download data up to 5GB.
Turn off or no VPN
Users prefer the Telegram app for exchanging data and files from different locations. When the servers of these users are not close together, files should go a long distance to reach the users, which can cause low speed of download on Telegram.
In this case, you can use a reliable VPN to adjust your location and close the destination or resources to download files quickly.
However, it's important to note that while a VPN can increase download speed on Telegram in some cases, it can also have the opposite effect and decrease the speed of downloading files on Telegram. In this case, you can turn off your VPN to see if it improves their download speed.
Reset your internet connection.
If you suffer from low download speed on Telegram, the case differs from your Telegram app; the issue is directly related to your internet.
A low internet connection can affect the speed of downloading files on Telegram; to fix it, you must reset your internet connection.
You can do it through these steps:
–On Android
Open Settings on your device.
Head to the system, then tap on Advanced Settings.
Then tap on reset options and Reset Network Settings.
–On iOS
Head to the phone's Settings, then the General section.
Tap on Transfer or Reset device.
Followed by this tap on Reset, Reset Network Settings.
Using Telegram X
Telegram X originated from the Telegram platform in 2018, allowing enthusiastic users to benefit from additional features on the Telegram platform.
One of the useful features of this version of Telegram is the high speed of download.
If you are fed up with the low downloading speed on Telegram, you can install Telegram X on your phone.
Disable automatic download of media on Telegram
When your automatic download on Telegram is active, downloading all files simultaneously can reduce the download speed of your targeted file.
Turning off this option on Telegram and quickly downloading the files you want is better.
To turn off this option, follow the steps below using Android and iOS to increase Telegram speed:
Open the Telegram app on your device.
Tap on the hamburger menu in the upper left corner.
From the options in the menu, choose 'Settings'.
Below the Settings option, tap on the 'Data & Storage' icon.
Head to the 'Automatic Media Download' section and make all options there.
Let's recap
Telegram has become a developed and reliable app for sharing various data. Because of that, users appreciate its versatility in offering features and use it for communication and other purposes.
But sometimes, the Telegram app cannot provide users with high downloading speed, frustrating them.
In this article, we introduce you to some ways that can help you to improve your download speed on Telegram.
Hope you find reading this article "How to Increase Telegram Download Speed on Android And iOS?" useful and enjoy using the Telegram app.
Do you have another way to increase the download speed on Telegram? If so, we would love to hear from you in the comment section